Easter special - The recipe
Torta pasqualina (Italian Easter Pie)
Perfect for an Easter Monday picnic, Torta Pasqualina is a classic Italian pie that no table should be without at Easter time. And it is so easy to make!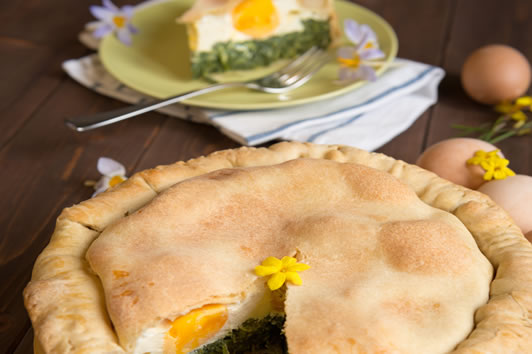 Ingredients:
• 2 packs of ready-rolled circles of puff pastry
• 7 eggs
• 1 kg spinach
• 400 g ricotta
• 100 g grated Parmigiano cheese
• Marjoram
• Oil
• Salt
Method:
Steam the spinach, squeeze to remove as much water as possible and liquidise. Place the spinach in a bowl, add the ricotta, three eggs, Parmigiano cheese and a pinch of salt and then mix well with a wooden spoon.
Preheat the oven to 200°. Lightly grease a springform baking tin. Place one of the ready-rolled circles of puff pastry in the baking tin.
Prick the pastry with a fork. Place the filling onto the pastry and spread it out so that it remains flat and even on top.
Using the back of spoon, create four wells in the filling. Crack an egg into each one of the wells.
Prick the remaining circle of pastry with a fork and place over the top of the pie like a lid. Bake in the oven for 30-40 minutes.
Leave to cool and serve cold.